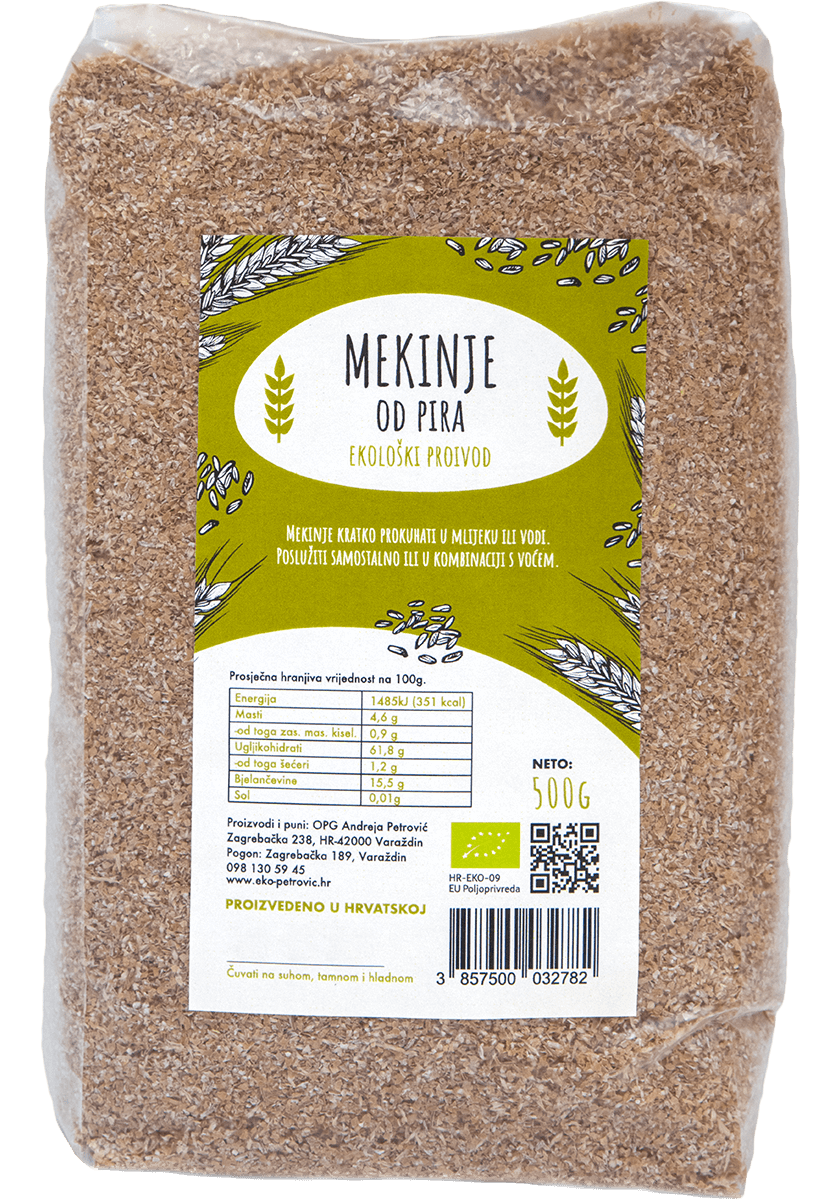 Spelt Bran, 500 g
Ecological product
---
Nutritional value per 100 g:
Energy: 1485 kJ (351 kcal)
Fat: 4,6 g; of which saturates: 0,9 g
Carbohydrate: 61,8 g; of which sugars: 1,2 g
Protein: 15,5 g
Salt: 0,01 g
---
Spelt (lat. Triticum spelta) is a cereal that is a precursor of today's wheat. It is also called krupnik, dinkel or spelt. Spelt originated in Asia where it was cultivated as early as 5,000 BC. Today, its popularity is growing all over the world because it is an original grain that is not industrially modified. Unlike wheat, it has husks around the grain, which makes it significantly more protected at the expense of grain size. Unlike wheat, it is easier to digest and more nutritionally rich. Pure gluten has completely different properties from wheat gluten, and does not adversely affect health.
Since the spelt grain is coated, the spelt must be peeled first. It is peeled just before use to keep it preserved in its natural environment for as long as possible. After peeling and purification, the spelt grain is ground in a stone mill. Bran is obtained by grinding. They are very nutritious, and once upon a time were used to feed cattle, because the intention was to clean the flour as much as possible to almost complete whiteness. Pure bran is used in making bread, muffins or pancakes. They can be cooked in water or with milk, and served with yogurt. Bran can be combined with dried or fresh fruit, as well as with seeds.
They help fight anemia, have a laxative and invigorating effect.