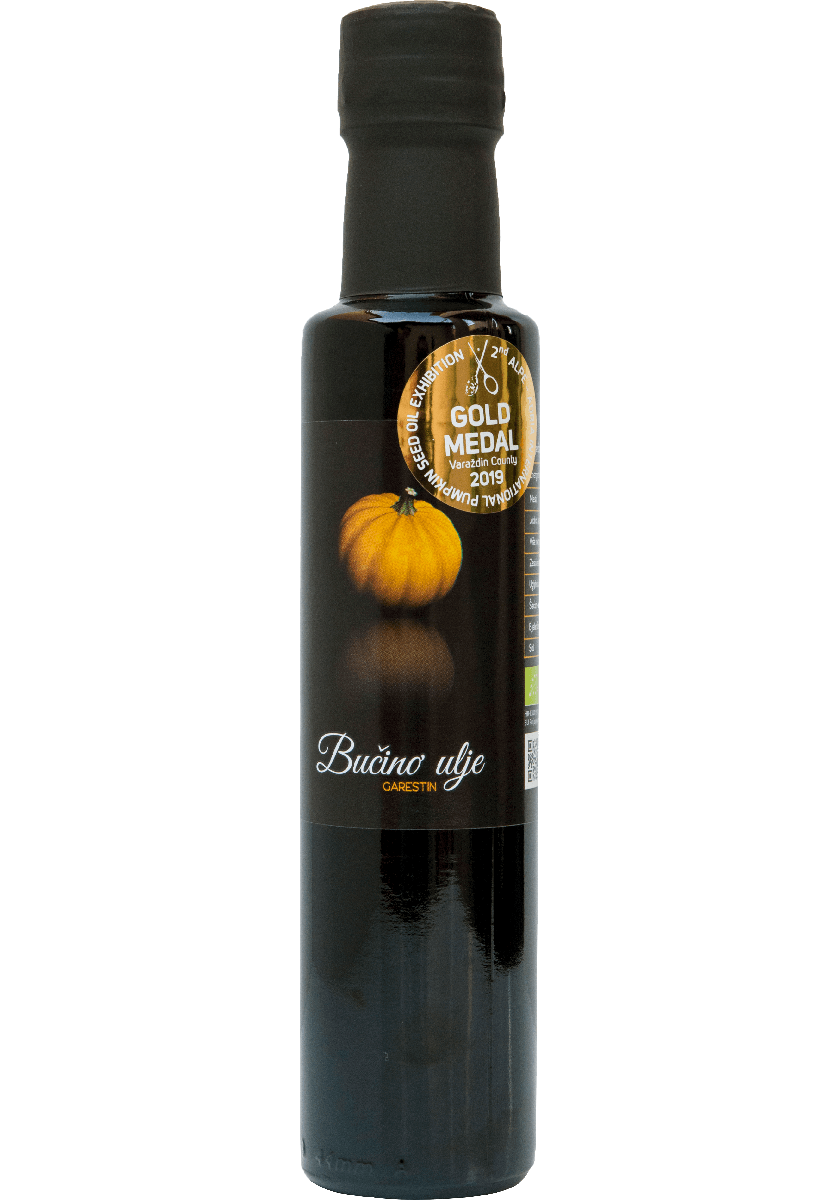 Pumpkin Oil, 0,75 l | 0,50 l | 0,25 l
Ecological product
Ingredients: 100% pumpkin seeds
---
Nutritional value per 100 ml:
Energy: 3406 kJ (829 kcal)
Fat: 92 g; of which saturates: 15 g
Carbohydrate: 0 g; of which sugars: 0 g
Protein: 0 g
Salt: 0 g
---
Pumpkin seed oil is obtained from pumpkin seeds. Pumpkin seeds are the seed, and pumpkin oil is their essence. With the ripening of the pumpkin and the disappearance of the body, the seeds that form the basis for new life remain. Everything that is needed for a new life is in the seed, that is, in its essence. The liquid thus obtained is of high biological, nutritional and gastronomic value. Dark green color with a dark red reflection, pleasant smell and nutty taste. Simply put, a food that tolerates, upgrades and refines many other foods and their flavors, thus leading to completely new gastronomic pleasures. In addition to culinary values, each precious drop of pumpkin oil is a natural balm rich in many essential compounds that positively affect human health.
Benefits of pumpkin oil:
positively affects metabolic processes
positively affects the immune system
improves the cholesterol profile and reduces the concentration of cholesterol in the blood
prevents the risk of coronary heart disease
prevents atherosclerosis
acts preventively in regulating blood pressure
prevents the risk of stroke and heart attack
relieves difficulties in inflammatory processes of the urinary system
has a beneficial effect in benign prostatic hyperplasia
positively affects brain functions
help in controlling intestinal worms
has a positive effect on skin, vision, concentration, mood
it is easily digestible